Mosambi Seed Sorting Machine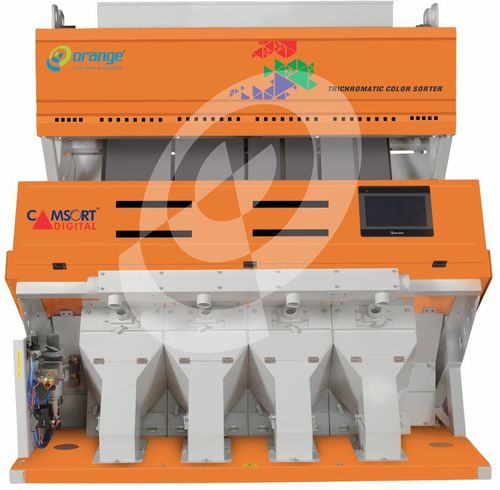 Mosambi Seed Sorting Machine
Price And Quantity
Product Specifications
7.5 kg/squareCM kgf/cm2

95 %
64 to 448

1225x1715x1850 to 2875x1715x1850 Millimeter (mm)
300 to 1350 Kilograms (kg)

3 to 10 Watt (w)
Product Description
Now, sorting different commodities, with defects of specific size is made easy. Thanks to the ORANGE's CAMSORT DIGITAL - Multi Grain Sorting Machine with Contour Mapping and Quad Level Sorting Technology. The all new CAMSORT DIGITAL - Multi Grain Color Sorter is the result of enthusiasm & continuous R & D to provide a top of its class color sorter for food industry in India and abroad.
Now you can demand for more quality output in our Camsort Digital series color sorters. This series machines are the combination of best technology available today and our decade of experience in the color sorting industry to give you the ultimate benefit of getting consistent good purity in sorting with very minimum loss of good grain in the rejection which means more profit to you. With its powerful 12288pixel dual side camera, 1 millisecond ejector response time and quad level sorting technology, you can get your sorting done at great accuracy and speed. What's more, this machine is built with embedded computer and can withstand any future inventions that will be made in the sorting algorithm. This machine is designed unique with the powerful software that makes billions of right decisions to identify shape and size of defect, spot defect and watershed algorithm to arrive the area of every product pass through our high tech CCD camera, in a millisecond.
Technology :-


High sensitivity, High resolution, High speed camera with 4096 pixels and built in Binning option.

Camera with 20,000 scans per second, Image processor gets 4,09,60,000 pockets of pixel data in one second .

High speed Ejectors with response time of 1 milli second are used .

American FPGAs with 50 million gates fabricated using 28 nano meter advanced technology.

PCBs are Gold Coated for very high quality and enhanced life.

MatriXLEDTM with controlled wavelength are used for excellent uniform visibility.

German make LAPP cables are used for long life.
Performance :-
Purity with proportional Tonnage and Good rejection ratio are key performance indicators of your BRAND and BUSINESS.Image processing with DSP makes CAMSORT DIGITAL to give best performance to cost ratio. Images are being supported by 99.9% identical high performance LEDs.

Reliability :-
FPGAs integrate number of Silicon components with ultra high density and increase the reliability. TheFPGAs used in our sorters were earlier were used in Space Science for better reliability.


Intelligent :-
G-defect system-Intelligent Group Defect Control System. Individual sensitivity adjustments for specific defects,like Spot, Low Color, High Color. Ultimate detection of all known defects.
The performance factors are kept consistent over period. AutOHueTM maintain the operator set quality same as in a whole batch .


Longevity:-
Life of sorters are mainly decided by life of ejectors. Optimization of number of cycles is achieved with intelligent Ejector Control Software.
Easy Operation :-
OptiTuneTM selection makes user to set the required quality in a short time for any new Batch.Auto Background setting allows less time to get optimum performance.It has 64 Pre set Programs which user can select at flick of a button to get required performance.
Easy serviceability :-
OMM 2.0(Online support) - Advanced total care of remote support allows user to access the important parameters with in limit and early warning for any abnormal conditions. Diagnostic alarming helps us to do preventive maintenance.
Running cost :-
ROI Intelligent defect detection and Ejection control system makes sorter to consume appreciably Lowest Air. In turn it reduces the powers consumption of sorting system.
Dust Control :-
Suction blower with adequate negative pressure incorporated in Camsort Digital. It keeps inspection area clean and enhances performance and reliability (Optional).
Trade Information
In wooden case pack

All India
DSIR - Recognized In- House Research & Development unit by Department of Scientific & Industrial Research, New Delhi