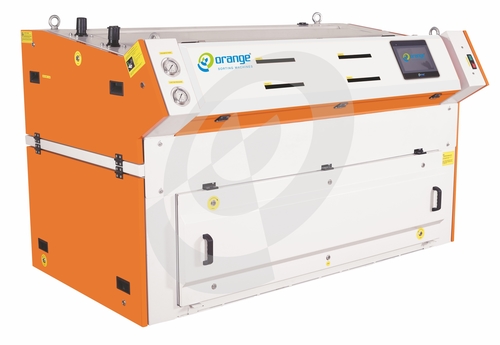 Glass Sorting Machine
Price And Quantity
Product Specifications
7.5 kg/squareCM kgf/cm2

30 to 140 cfm
Product Description
VERRESORT E1

Model A(Foreign Particles Sort)

Model B(Color Sorting)

Orange Sorting Machine India Pvt Ltd is a leading sorting machine manufacturing company which was established in year 2002. Orange is the No.1 brand in sorting technology which sort Rice, Pulses, Spices, Nuts, Plastics and Glasses etc. Orange have developed a ground breaking technology to sort recycled Glasses pieces. In Verresort series we can sort metal cap , Plastic cap, stone, Mud ball and metals from Glasses with different colors in Mode A. Verresort can remove one or two particular colors from mixer of colors in Model B.
Orange uses latest home grown hardware and software technology to get best purity and excellent Tonnage.
TECHNOLOGY
Camara
High sensitivity, High resolution, High-speed camara with 12,288 Pixels and built in billing option.
Camara with 60,000 scans per second, Image processor gets 12,28,80,000 pockets of pixel data in one second.
High speed ejectors with response time of 1 milli second are used.
American FPGAs with 50 million gates fabricated using 28 nano meter advanced technology.
MatriXLED
Purity with proporational tonnage and good rejection ratio are key performance indicators of your BRAND and BUSINESS.
Image processing with DSP makes verrsort to give best performance to cost ratio, images are being supported by 99.9 % idencical performance LEDs.
Reliability
FPGAs integrate number of sillicon components with ultra high denssity and increase the relibility. The FPGAs used in our sorters were earlier were used in space science for better reliablity.
Consistency
The performance factors are kept consistent over period. Autohue maintain the opertor set quality same as in whole batch.
Longevity
Life of sorters are mainly decided by life of ejectors. Optimisation of number of cycle is achived with intelligent Ejector Control Software.
Easy Operation
Optitune selection makes user to set the required quality in short time for any new batch. Auto Background setting allows less time to get optimum performance. It has 64 pre set programs which user can select at flick of a button to get required performance.
Easy Service ability
Online machine monitoring will help millers and service engineer to view essential machine health parameters through OMM you can order your spares from your place.All this dates will be stored in our Orange Server.
Technical Specifications
| | |
| --- | --- |
| Number of sorting stage | 1 |
| Material feed by | chute |
| Glass Sizes | 8-32 mm |
| Chute sorting width | 1100 mm |
| Sensor System | Trichromatic |
| Light System | Matrix LED |
| Material output by | Pneumatic high speed 1ms ejectors |
| Throughput Capacity | Up to 8 t/h |
| No of ejectors | 220 nos |
| Distance in mm between ejectors | 5mm maximum |
| Voltage (v) | 220V 50HZ |
| Power (KVA) | 5 |
| Air pressure required Kg / Square | 7.5 |
| Air required (CFM) | 90 CFM |
| Weight Max (Kg) | -1000 Kg |
| Dimension in mm (L x Wx H) | 1700 x 900 x 900 |